A Melting Module Will Cause the Envoy's Low Beam Headlights to Stop Working
Posted on

Author

Tagged
Key Points
The headlamp driver module manufactured by Delphi is defective and can cause the low beam headlights to suddenly shut off in some GM vehicles.
The module will melt and stop distributing power to the lights, but won't trigger a warning light.
GM was investigated for how they handled recalls about this problem, and eventually offered an extended warranty to some owners.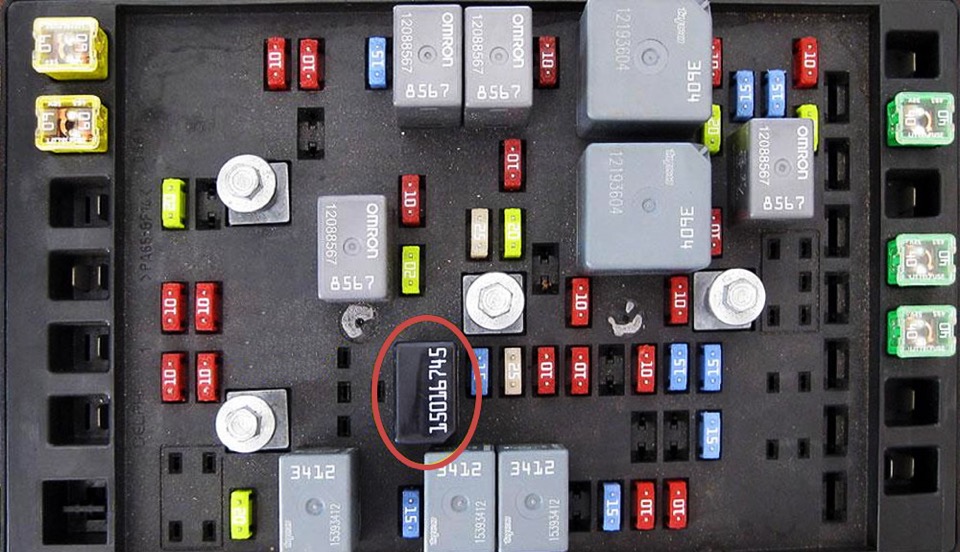 This post originally appeared on chevroletproblems.com
The 1st generation Lacrosse and Rainier have low beam headlights that can suddenly shut off even though the lights themselves are perfectly fine. The issue is a defective headlamp driver module (HDM) which is responsible for distributing power to the lights. The module, which is manufactured by Delphi, simply can't stand the heat and is known to slowly melt until it cuts off power to the low beam and daytime running lights.
And it does this without even triggering a courtesy warning. At least the high-beam lights aren't affected, so that's always an option if you're not interested in making any friends on the road.
GM Low Beam Headlight Module Recall ∞
General Motors (GM) first issued a recall for the HDM in December 2014. Eight months later they announced [that recall was a giant waste of time, and they needed to call back every affected vehicle and a few others for good measure.
318,000 vehicles were recalled, including:
2005-2009 Buick LaCrosse (or Allure for our Canadian friends)
2006-2007 Buick Rainier
2006-2007 Chevy TrailBlazer and
2006 Chevy TrailBlazer EXT
2006-2007 GMC Envoy
2006 GMC Envoy XL
2006-2008 Isuzu Ascender
2006-2008 Saab 9-7X
2007 Pontiac Grand Prix
The Recall Investigation ∞
And yet, even after the second recall low beam headlight failure complaints continued to roll in to sites like CarComplaints.com and the National Highway Traffic Safety Administration (NHTSA).
Some owners had their vehicles "repaired" in the recalls, while others were told they weren't covered. By the time NHTSA received 128 complaints they decided to open an investigation into the recalls.
In a great coincidence, GM found it in their hearts to somehow offer a warranty extension to affected owners just 10 days after the investigation was opened. What timing!
GM's warranty extension "special program" ∞
Rather than a third recall, GM went with what they called a "special program" for headlight problems. The program offered to fix the headlights for free, if:
The low beam or daytime running lights are out on both sides of the vehicle at the same time.
The problem happens within 12 years of the purchase date, or 150,000 miles.
Reimbursement offers for owners who had previously paid for repairs expired on 05/31/2018.
The investigation was eventually closed ∞
After the program was announced it was widely assumed the investigation was over. But we waited…and waited…until finally the investigation was closed in April 2021.
Was NHTSA monitoring the situation and making sure anyone who needed repairs got them? Or did the whole case get lost in some "TO BE SORTED" bin? Perhaps we'll never know.
Generations Where This Problem Has Been Reported
This problem has popped up in the following GMC generations.

Most years within a generation share the same parts and manufacturing process. You can also expect them to share the same problems. So while it may not be a problem in every year yet, it's worth looking out for.
2nd Generation Envoy

Years

2002–2009

Reliability

29th out of 32

PainRank™

11.51

Complaints

397

Learn more about the 2nd Generation Envoy
OK, Now What?
Maybe you've experienced this problem. Maybe you're concerned you will soon. Whatever the reason, here's a handful of things you can do to make sure it gets the attention it deserves.
File Your Complaint

CarComplaints.com is a free site dedicated to uncovering problem trends and informing owners about potential issues with their cars. Major class action law firms use this data when researching cases.

Add a Complaint

Notify CAS

The Center for Auto Safety (CAS) is a pro-consumer organization that researches auto safety issues & often compels the US government to do the right thing through lobbying & lawsuits.

Notify The CAS

Report a Safety Concern

The National Highway Traffic Safety Administration (NHTSA) is the US agency with the authority to conduct vehicle defect investigations & force recalls. Their focus is on safety-related issues.

Report to NHTSA