Busted Wave Plates and Overheating in the 6T70 and 6T75 GM Transmission
Posted on

Author

Tagged
Key Points
1st generation Acadia SUVs equipped with the 6T70 or 6T75 transmissions suffer from multiple defects, from overheating to complete failure.
A busted 3/5/R wave plate can cause catastrophic damage. The issue was so widepsread that GM issued a special coverage adjustment for the problem, but that has since expired.
The transmission generated more heat than it could handle and had a torque coverter that just wasn't up to the job on inclines or while towing loads.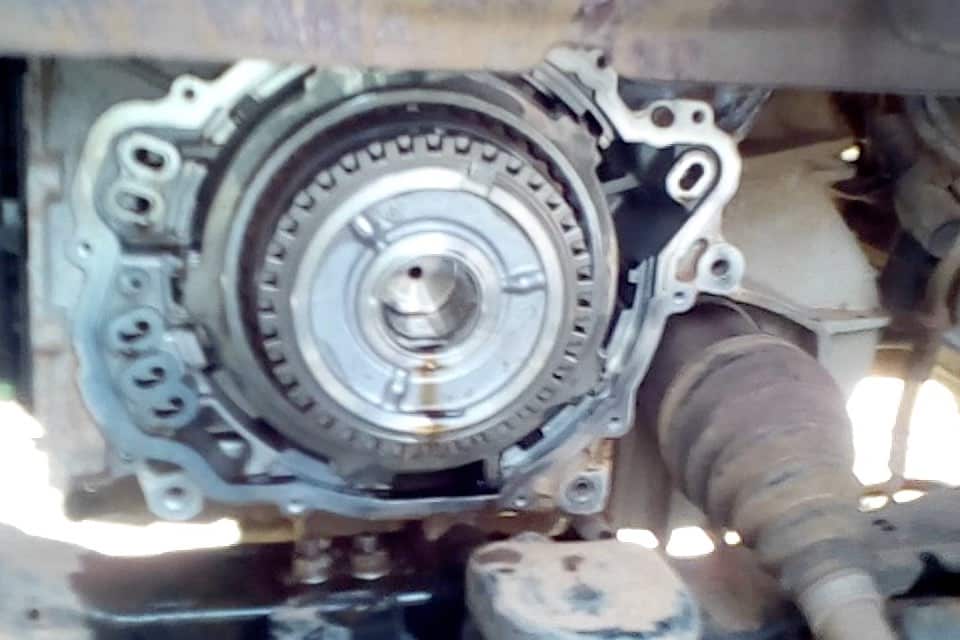 The GMC Acadia made its first appearance for the 2007 model year as a more fuel-efficient alternative to some of GM's larger SUVs. But its popularity started to take a hit when early models started having major transmission issues as early as 30,000 miles. The problems only got more catastrophic over time with a common complaint being the darn thing just fails in the middle of the road.
Let's take a look at the most common issues plaguing the 6T70 and 6T75 transmissions.
Fractured Wave Plates ∞
The most infamous issue with the 1st generation Acadia's transmission is a busted 3/5/R wave plate.
Wave plates aren't something you hear about very often. They're flat pieces of metal that sit in the transmission clutch stack and serve as a cushion ad help to lock gears together during a shift. The clutch stack has multiple wave plates, but the one responsible for the 3rd, 5th, and Reverse gears is defective and breaks.
A broken wave plate spells doom for your transmission. It'll send metal fragments throughout the gearbox causing catastrophic damage to the pump, valve bodies, and torque converter.
Special Coverage Adjustment ∞
The problem was bad that GM issues a special coverage adjustment for Acadia owners in August 2016 as part of TSB GCUS-9-2635.
The special coverage adjustment period expired on March 2nd, 2015.
GM explained the issue in a letter to owners:
"This letter is intended to make you aware that some 2007-2009 model year Buick Enclave, GMC Acadia, Pontiac G6, Saturn AURA and OUTLOOK, 2008-2009 model year Chevrolet Equinox and Malibu, and Pontiac Torrent, and 2009 model year Chevrolet Traverse vehicles, equipped with a 6-speed automatic transmission may have a condition where the wave plate may crack or fracture, resulting in the loss of 3rd, 5th, and reverse gears."
Coverage adjustment details ∞
The adjustment extended coverage for the problem to 10 years or 120,000 miles.
The coverage was made available to GM vehicles equipped with a 6T70 or 6T75 6-speed automatic transmission. In addition to the Acadia other GM vehicles were involved like the 2007-2009 Buick Enclave, 2008-2009 Chevy Equinox and Malibu, 2009 Equinox, 2007-2009 Pontiac G6, 2007-2009 Saturn Vue, among others.
Owners who previously paid for repairs were eligible for reimbursement under special rules, if submitted by 08/31/2017.
Overheating ∞
The 6T70 and 6T75 consistently generated more heat than the transmission fluid could remove. The problem was particularly noticeable in high-stress driving such as towing heavy loads, stop and go traffic, or accelerating up hills.
Excess hear in the transmission leads to stripped gears, ruptured seals, damaged torque converters / valve bodies / and clutches.
The only remedy for the problem was to pull over and wait for the transmission to cool down.
Transmission Slips ∞
Let's face it, the torque converters just weren't up to the job. After overheating issues, the next thing Acadia owners would notice is the transmission "slipping", particularly on inclines and at high speeds.
This slipping is likely a sensation causes by a failing torque converter.
Owners report that at first the slipping occurs at heavy acceleration, but only gets worse over time.
---
A lot of the transmission control modules (TCM) have issues
Generations Where This Problem Has Been Reported
This problem has popped up in the following GMC generations.

Most years within a generation share the same parts and manufacturing process. You can also expect them to share the same problems. So while it may not be a problem in every year yet, it's worth looking out for.
1st Generation Acadia

Years

2007–2016

Reliability

32nd out of 32

PainRank™

24.92

Complaints

620

Learn more about the 1st Generation Acadia
OK, Now What?
Maybe you've experienced this problem. Maybe you're concerned you will soon. Whatever the reason, here's a handful of things you can do to make sure it gets the attention it deserves.
File Your Complaint

CarComplaints.com is a free site dedicated to uncovering problem trends and informing owners about potential issues with their cars. Major class action law firms use this data when researching cases.

Add a Complaint

Notify CAS

The Center for Auto Safety (CAS) is a pro-consumer organization that researches auto safety issues & often compels the US government to do the right thing through lobbying & lawsuits.

Notify The CAS

Report a Safety Concern

The National Highway Traffic Safety Administration (NHTSA) is the US agency with the authority to conduct vehicle defect investigations & force recalls. Their focus is on safety-related issues.

Report to NHTSA